The ProSiebenSat.1 Group reached its financial targets for the year 2015 already one year earlier und set again a new record year. CEO Thomas Ebeling looks back on the 2014 financial year and explains how the Group will continue to grow in the years to come.
Interview with the CEO
2.876
EUR BN
of revenues were generated by the ProSiebenSat.1 Group in the financial year 2014. This is an increase of 10.4 %
Innovation, growth, new markets: Why did ProSiebenSat.1 choose this motto for the 2014 Annual Report?
Thomas Ebeling: These three terms paraphrase the entrepreneurial categories that we think in. We have proven that we implement our strategy successfully and achieve our ambitious financial targets faster than planned. The original plan was to increase our revenues as compared to 2010 by EUR 800 million by the end of 2015. We've now achieved this a year earlier. At the same time, we set a new revenue and earnings record in 2014. We focus on growth consistently by developing innovative business models and forging ahead into new markets. That is the core of our strategy, both in retrospect and for the years to come.
The Group wants to increase its revenues by EUR 1 billion by 2018. How do you intend to implement this plan in concrete terms?
847.3
EUR M
of recurring EBITDA was reached by the Group in 2014, 7.2 % more than in the previous year.
Thomas Ebeling: We will continue with what we have built up successfully in the past years. Since 2010, our main focus has been on the development from a classic TV company to a digital player. We have made significant progress here. In 2014, we already generated around 34 % of our revenues outside the TV advertising business. Our aim is to increase this percentage to 40 % by 2018. We have integrated our TV unit with the digital business consistently over the past years and have initiated growth through reciprocal synergies. At the same time, we have established new business areas in all segments. This includes, for example, the new free TV station, the HD distribution business, and our e-commerce unit. These business areas are recording dynamic growth and build a strong foundation for further profitable growth in the coming years.
The capital market also seems to acknowledge this.
1.60
EUR
per common share is the dividend proposal.
Thomas Ebeling: The capital market appreciates not only that we have a very clear agenda that we implement consistently. The mixture of a very sound core business and dynamically growing business areas in our company convinces the stock exchange. We have now also proven repeatedly that we are reliable when it comes to fulfilling our ambitious targets. This is reflected in our shares: We have increased our market capitalization value forty-fold since 2009, and our shares reached a new all-time high with a price of EUR 46.03 on March 11, 2015. We are thus an attractive security for investors with regard to the aspects of both growth and return. We will give our shareholders an adequate share in the Company's success this year, too, and have proposed a dividend of EUR 1.60 per common share to the Supervisory Board.
Let's talk about the individual segments: How did ProSiebenSat.1 close the year 2014 in the core business of "Broadcasting German-speaking?"
Thomas Ebeling: We have further expanded our leading position in the audience and advertising markets despite a highly competitive environment. Our new stations played a crucial part in this. Years with large sports events, like 2014 was with the Winter Olympics and the soccer World Cup, always represent a special challenge for our TV stations. Nevertheless, we managed to increase our audience share by 0.6 percentage points to 28.7 %. The growth was especially generated by our new stations sixx, SAT.1 Gold and ProSieben MAXX. It thus pays off that we founded new free TV stations in the past years and make active use of the opportunities that arise from the fragmentation of the TV market. Especially since this allows us to continue our growth on the advertising market. We gained more than 100 new TV advertising customers in 2014 alone. Especially our new stations are interesting for new customers who previously advertised in print media exclusively. This is how we manage to bring fresh capital to the TV advertising market.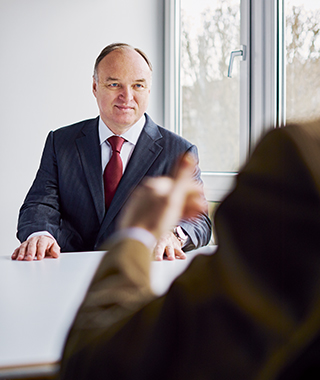 That all sounds very positive. However, a look at the USA indicates that linear TV use is decreasing. The USA is often a trendsetter in the TV business in particular: How would you estimate the development on the German television market?
Thomas Ebeling: The USA and Germany are not comparable with regard to this. The quality of freely available television in the USA is not nearly as high as here in Germany. This is why, on the one hand, people are a lot more willing to pay for TV services and, on the other hand, the pressure to switch to less expensive providers in the digital field is significantly higher. It costs around USD 80 per month to receive a program in the USA that is comparable to the German free TV service. In contrast, big sports events, movies or TV show highlights are freely available in Germany. Furthermore, we have considerably fewer commercial breaks, and the majority of Germans still watch synchronized programs. Such a range of these programs is available only on TV. The classic television program still accounts for 95 % of media use in Germany. Should this change in the coming years, we are in a perfect position to participate in the growth of new markets: With maxdome, our own video-on-demand portal, our multi-channel network Studio71, or the streaming app 7TV.
The development of the ProSiebenSat.1 distribution business indicates that people in Germany are indeed becoming more willing to pay for some services.
Thomas Ebeling: That's right; the distribution business is a significant growth driver in the Broadcasting German-speaking segment. The number of ProSiebenSat.1 HD users increased by 25 % to more than five million in 2014, and we want to reach over nine million HD users by 2018. This means we will be able to increase our independence from the classic TV advertising market. The topic of distribution is becoming more important from a strategic point of view, too: We established various partnerships — especially with mobile platforms — in 2014 to enable viewers to access our content everywhere, at all times, and on every device.
The "Digital & Adjacent" segment also grew very dynamically in 2014. Revenues and earnings increased by considerably more than 20 %. Which units contributed particularly to driving the growth?
26.3
PERCENT
to EUR 610.7 million was the increase of external revenues in the Digital & Adjacent segment.
Thomas Ebeling: The largest revenue increase again came from the e-commerce business. I am particularly happy with the positive development of our Travel vertical in 2014, which clearly shows that our strategy works. Over the last two years, we have set up a commerce portfolio via various investments that covers all the services involved in the topic of travel. The integration with our free TV business is working: For example, ever since we started marketing the travel site weg.de with video advertising on our stations, the site's revenues have increased considerably. In total, we generated around EUR 150 million in revenues with our Travel vertical in 2014. We also developed dynamically in the Digital Entertainment business: Our video-on-demand portal maxdome and our online advertising business generated strong organic growth in 2014.
Will there be more acquisitions in the Digital & Adjacent segment in 2015?
Thomas Ebeling: We do not need acquisitions to achieve our growth targets for 2018. If you consider where our company is today, it can, of course, be a sensible step if we find an interesting target. In 2009, during a time of very limited financial headroom, we began to establish an attractive ventures portfolio that contains around 60 investments today. We did this on the basis of the two highly innovative business models media-for-revenue-share and media-for-equity. We offered advertising space on our free TV stations to promising start-up companies and thereby received a share in revenues and/or equity in exchange without making larger cash investments. That worked very well. This is why we are moving on to the next level and internationalizing this business. We are already the largest media investor in Germany; now we want to become the largest in Europe. To this end, we are establishing a media alliance with European TV stations such as TF1 and Channel 4 and are supporting international start-ups in return for a share when they enter the European market. At the same time, we can also imagine making classic acquisitions both in Germany and on an international level.
Is that why you created an own executive department for M&A activities?
Thomas Ebeling: Active portfolio management has always played an important part for ProSiebenSat.1. We would not be as successful today if we did not question time and again what is strategically useful. The fact that we created an own executive department for this purpose indicates clearly that we will continue to make investment decisions with great care in the future. We will continue to adhere to our dividend policy and our target range for the leverage factor.
Let's talk about the third segment. How did the "Content Production & Global Sales" segment, in which you produce TV programs and distribute them worldwide, get on in 2014?
Thomas Ebeling: 2014 was a very successful year for our subsidiary Red Arrow. We had acquired the US production company Half Yard at the beginning of the year and thereby strengthened our presence in English-speaking markets: Red Arrow is now represented with 13 production companies in seven countries. The past year has proven that we chose the right strategy when we decided to focus on the US and UK markets in particular. Thanks to a number of globally renowned projects, the company has established itself as a reliable player in the international production business. This includes, for example, the crime series "Bosch" that Red Arrow produced for Amazon's streaming platform and that just started successfully. Another great project is the series "Odyssey" which is produced by the Red Arrow subsidiary Fabrik Entertainment and will air on NBC as from April.
What are your next plans now that you have achieved all your targets for 2015?
1.0
EUR BN
of additional revenues — this is the target amount that ProSiebenSat.1 wants to generate by 2018 compared to 2012.
Thomas Ebeling: Our success is an incentive for us to get even better. It is great to see how the employees at ProSiebenSat.1 put their hearts and souls into their work, and I am looking forward to driving our company further forward together with my colleagues. Our target is to generate EUR 1 billion more in revenues by 2018 than we did in 2012. We are very optimistic that we will achieve this target. We will continue to look for strong, innovative business models and implement them successfully. In areas where we are the market leader, we are seeking to expand our positions and in all other business fields, we aspire to leading market positions. We will continue to strengthen our independence from the economically sensitive advertising market and diversify our portfolio on an international level, too. I am convinced that with this strategy, ProSiebenSat.1 will continue its sustainable and profitable growth and deliver on the promises we have made to our shareholders and the capital market. <