An influx of digital streaming platforms are pushing into the original-content game. Red Arrow Entertainment Group is one of the first German companies to have successfully positioned itself on the global market in this thriving field. With English-language drama series like "Bosch" and "100 Code", the production company owned by ProSiebenSat.1 seeks to establish itself as a leading global player.
Content Production & Global Sales: Production for Streaming Platforms
Hieronymus "Harry" Bosch is a tough-minded homicide detective from Los Angeles who relentlessly fights for justice and is one day suspected of murder himself. Of all the characters that bestselling author Michael Connelly has created, Harry is the one who is closest to his heart. The author has sold around 60 million copies of his novel franchise and has waited almost 20 years to bring his Bosch to the screen.
That's why Connelly will never forget the moment that Titus Welliver auditioned for the role: "It was one of those casting miracles: I just knew that Harry Bosch was with us." The introverted character needed an actor who could fill even quiet moments with presence and tension. Welliver recognized this as well: "Bosch is so human because he is flawed. That's precisely what attracted me to him. I'll play him for as long as they let me – even when I need a walking frame," jokes the 54-year-old, who many people will recognize from Ben Affleck's thriller "Argo" and the CBS drama series "The Good Wife".
Strong stories, big stars, first-class locations: Red Arrow is aiming for the top of the world.
Global Player
Red Arrow is supplying programs to
>200
countries.
Red Arrow has demonstrated its strength in sales with the successful Netflix series "Lilyhammer", for example: To date, the rights to the Norwegian drama have been sold to over 150 countries. In addition to their drama series featuring A-list cast members, formats like "The Taste" or "Married at First Sight" were international sales hits in 2014. The Red Arrow program catalog now includes a total of 710 titles with 10,000 hours.
Jan Frouman, CEO of Red Arrow Entertainment Group, shares Connelly and Welliver's passion for Bosch. The series for Amazon's streaming service is exactly the type of project with which he wants to see the ProSiebenSat.1 subsidiary continue to grow in the coming years. "Strong stories, big stars, a great location – it doesn't get any better," says Frouman. He believes that "Bosch" is what Red Arrow needs to establish itself as a global leader for English-language drama. The game is decided in the US and UK markets. "If you can get a hit there, you've got a great shot at global success," says Frouman.
The numbers point to further growth. "It's a golden age for drama productions," Frouman says. Whether it's for free TV, pay TV or on-demand streaming – around 65 channels in the USA alone are now commissioning drama formats. The streaming service Netflix has plans to release a new series or season every two and a half weeks. Amazon Studios also commissioned numerous pilots last year.
Red Arrow is one of the first German production and distribution companies to seize the opportunities in the new market for digital platforms all around the world. Development, production and distribution from a single provider, Red Arrow is thus having an advantage in concluding the best deals. The latest example is "100 Code": The series that was created for Sky Deutschland and Sweden's Kanal 5 in 2014, was produced and marketed worldwide by Red Arrow.
With 900 produced hours in 2014 and 13 production companies in seven countries, the ProSiebenSat.1 subsidiary, which was founded in 2010, has established itself as an international player. In 2014, the team led by Frouman already achieved the targets it had set for 2015, with external revenues of around EUR 202 million. The company's profitability is also increasing steadily. "The business is doing well," says Frouman.
STRONG NETWORK
13
production companies
in seven countries and a multi-channel network: This is the Red Arrow Entertainment Group.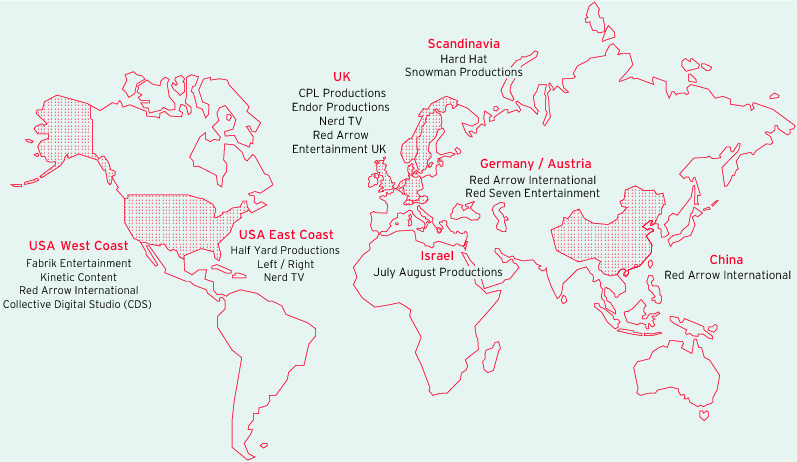 It's not the heads of programming, but the viewers who decide whether a pilot goes into series.
The digital boom offers ample opportunities for advancement, as well as much novelty. Frouman could hardly tear himself away from his computer, the day that Amazon put the "Bosch" pilot online. Because the viewers' rating of the pilot ultimately determined whether a whole season would follow – a first in the world of TV. Frouman no longer remembers how many times he refreshed the Amazon website on February 6, 2014. He did it countless times. "I need more Bosch!", Frouman read. "The script is clever, the plot draws you in and the actors are first-class." "Definitely worth a whole season." "I'm crazy about Harry." Around 3,000 comments appeared on the website in the first 24 hours alone. In total, about 13,000 viewers rated the show on Amazon. The result: 4.7 out of a possible 5 stars – a top rating.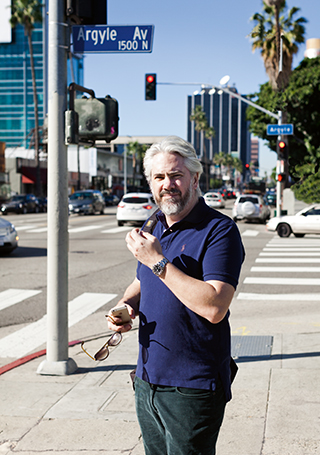 »Viewers expect
high quality
on all channels.«
Henrik Bastin
Classic television or online? There are no differences in quality anymore.
"Online productions are no longer inferior to TV productions in any way," says Henrik Bastin, CEO of Red Arrow's US subsidiary Fabrik Entertainment, which produced "Bosch" and "100 Code". Not only is this evident through international sales to a number of established TV stations, Red Arrow's productions are also attracting top-tier talent: In the crime series "100 Code", Hollywood star Dominic Monaghan ("Lost") plays a New York police officer who heads to Stockholm to investigate a series of mysterious murders of women. There he is paired with a veteran Swedish detective played by Michael Nyqvist ("Millennium Trilogy"), who is not at all impressed by his new colleague's American mentality. The team behind the camera is also something to be proud of: The series is created and directed by Academy Award winner Bobby Moresco ("Crash", "Million Dollar Baby").
Big characters, gripping subjects: "It doesn't make any difference whether we're producing for Amazon, Netflix, the BBC or Sky," says Henrik Bastin. "Viewers expect high quality on all channels." And that is ultimately the deciding factor in determining whether or not a series becomes a major hit. <