Sustainability
The ProSiebenSat.1 Group sees sustainability as a concept that targets holistic and lasting development of the Company's economic, environmental and social performance. The individual dimensions of sustainability are mutually dependent. Companies that identify and manage sustainability-related opportunities in a targeted manner can perform better on competitive markets. Integrating sustainability aspects can lead to optimized business strategies and competitive advantages that can in turn result in higher returns for investors. Below, we describe the specific aspects that are particularly relevant to ProSiebenSat.1 as a media company.
Organizational advantages, own brands, stable customer elations and human resources potential are important success factors that for the most part are not measured financially. On the other hand, we capitalize certain internally generated intangible assets at a low level. Further information can be found in the Notes to the consolidated financial statements, Note 19 "Intangible asset".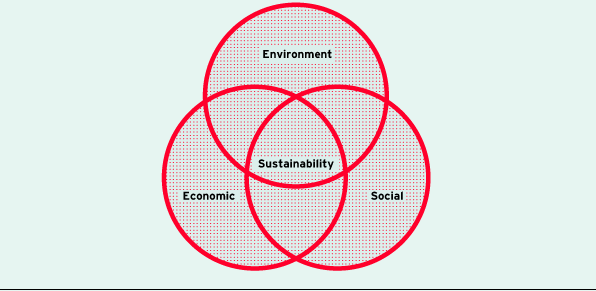 Economic Sustainability
ProSiebenSat.1 stands on a solid financial basis and is growing profitably. In order to continue being successful in the future, good supplier and customer relationships are essential. ProSiebenSat.1 also values the promotion of innovation processes in order to secure its own future viability.
Supplier and Customer Relationships
Attractive programming is one of the most important requirements for the ProSiebenSat.1 stations' long-term success with TV viewers. In order to secure a long-term supply of programming for the Group, the Group maintains close dialogue with domestic and international film studios, as well as film and TV producers. The ProSiebenSat.1 Group has agreements with numerous film studios: The most important include Warner Brothers, CBS, Twentieth Century Fox, Constantin Film and Paramount. In 2014, the contracts with Studiocanal Deutschland and CBS Studios International were extended. The new agreement with Studiocanal Deutschland secures attractive movies from the US studio Lionsgate for our stations in the future. The new master license agreement with CBS Studios International also gives the Group further exclusive TV rights to high-quality series. The broadcasting rights granted by the two agreements apply to the ProSiebenSat.1 stations in Germany, Austria, and Switzerland.
The video-on-demand portal maxdome is also benefiting from the good supplier relationships: Many agreements include selected pay TV and video-on-demand licenses in addition to exclusive free TV rights, and are therefore valid for maxdome too. The video-on-demand portal has partnerships with over 100 licensors. ProSiebenSat.1 also cooperates with numerous creative partners in order to ensure access to new formats, such as with John de Mol from the Netherlands, who has developed TV-shows such as "Newtopia" or "The Voice of Germany" and licensed them to the Group.
The relationship with advertising customers is also an important success factor for ProSiebenSat.1. The Group generates the biggest share of its revenues from the sale of TV advertising time. In the 2014 financial year, the share was 66.4 %. As advertising budgets are often granted on a very short-term basis, it is important to form a bond with advertising customers. In the core German market, the regional sales offices of the sales subsidiary SevenOne Media have principal responsibility for this. The focus is on intensive and tailored consultation as well as marketing and market research. In addition to maintaining the existing customer base, new customer business is also of economic importance to the ProSiebenSat.1 Group. In 2014, the Group gained 105 new customers.
As well as the advertising industry, the consumers of our content are also important stakeholders for us. In order to increase the success of the media offerings and raise awareness of the brands, the Group regularly invests in high-reach marketing campaigns. In 2014, marketing expenditure amounted to EUR 88.5 million (previous year: EUR 58.7 million). These include all expenses in relation to program and image communication with the exception of market research and PR activities. The increase in marketing expenses in 2014 is primarily attributable to the further expansion of the Digital & Adjacent activities. Key investment areas were online marketing measures, print advertisements as well as events and fairs.
Direct interaction with viewers and users is also important. For this reason, the ProSiebenSat.1 Group runs 152 Facebook pages and 34 Twitter accounts in Germany. In addition, viewers can e-mail their questions about program content, suggestions or criticism to the central viewer service department. In 2014, this department processed around 100,000 queries (previous year: 116,000). The trend toward the use of social networks as a contact channel is unabated: Nearly a third of all queries were received as a message or comment on Facebook in 2014 (previous year: 28.3 %).
Research and Development
The ProSiebenSat.1 Group does not carry out research and development (R&D) in the conventional sense of an industrial company. Therefore, the activities in this area do not fulfill the traditional definition of R&D, so more detailed information according to DRS 20 is not included in the management report.
Nonetheless, Research does hold a position of high importance at the ProSiebenSat.1 Group. We conduct intensive market research in every area relevant to our business activities and in every area in which the Company foresees growth potential. In 2014, expenses for Group-wide market research activities amounted to EUR 7.5 million (previous year: EUR 7.2 million). At ProSiebenSat.1, 33 employees work in various research units. They prepare investigations and analyses on advertising impact, on trends in the advertising market as well as on media use and also assess economic and advertising market projections. Those responsible in the Group use the results of the market analyses for operational and strategic planning. At the same time, market data and analyses are an important basis for capably advising our advertising clients. With its studies, the Company provides advertisers with valuable knowledge for marketing and advertising planning, which constitute an important basis for investment decisions.
Another success factor for the ProSiebenSat.1 Group is program development. It is important to implement TV programs quickly. The target is always to form a value chain alongside the formats: From concept development to production, marketing and sales to online presence. Therefore, how an extension to digital media might look and which potential advertising partners could be interested in the format are considered from the beginning in the development of new programs.
In the program development phase, program research also plays a decisive role. An important task is the assessment of international TV trends with regard to their potential for the German TV market. In addition, the research team regularly provides quantitative and qualitative studies and analyses of the ProSiebenSat.1 stations' programming. Among other things, new formats are tested with the aid of survey and audience screenings. Besides, the research department also carries out ad hoc tests on shows that have already been broadcast. Based on the results, we can adjust formats in the development phase and optimize TV-programs that have already been broadcast, thus increasing success rates.
Innovation
We are using the opportunities presented by digitalization and developing from a traditional TV provider into an integrated Broadcasting, Digital Entertainment and Commerce Powerhouse. In order to be successful in our dynamic industry sector in the long term, we have to ensure our Company's innovative power and respond quickly to trends and new technologies. This is the only way to face future challenges successfully.
An important aspect of ProSiebenSat.1's innovation management is collaboration with start-up companies. Since 2013, the Group has been promoting start-ups with the ProSiebenSat.1 Accelerator program. Through the close cooperation with company founders, we ensure that we can draw on trends and new technologies at an early stage. Since 2014, ProSiebenSat.1 also co-operates with the Technical University Munich (TUM) to support start-ups. The goal is to pool skills to strengthen Bavaria as a location for start-ups. The Company also maintains numerous participations in young, promising enterprises via its ventures arm SevenVentures. In 2010, the ProSiebenSat.1 Group introduced the innovative media-for-revenue-share and media-for-equity business models. So far, around 60 media-for-revenue-share and media-for-equity deals have been struck.
In future, ProSiebenSat.1 also wants to expand its involvement in international start-ups. To do so, the Group established scouting offices in the USA, Asia and Israel in 2014, in order to quickly identify global trends and promising companies. The Group then supports their market entry in Germany and Europe. In this way, we are transposing our successful investment model to the global market with the objective of establishing ourselves internationally as a media investor. At the same time, we are thus bringing innovative business models to Europe. In 2014, we have already launched five international partnerships based on this model, for instance with the creative platform Talenthouse, the shopping app Shopkick and the fitness wearable provider Jawbone. Through investments in future markets ProSiebenSat.1 strengthens its international competitive position.
In order to succeed in the long term, we set great store by the ideas and creativity of our employees and actively pursue innovation processes. In 2012, ProSiebenSat.1 established a central authority for innovation and technology trends in the Group with the TEK initiative. Since then a five-person TEK team continuously analyzes innovations in the market and processes relevant information for the management and employees. Moreover, employees can try out cutting edge technologies like 3D printers, virtual reality glasses and drones for themselves in the ProSiebenSat.1 Tech Innovation Lab. The goal of the TEK initiative is to give knowledge of current trends and to provide a basis for innovation.
In addition to the TEK initiative, Learning Expeditions and Innovation Camps are important measures for the promotion of our employees' innovative skills. In the one-week Learning Expeditions, ProSiebenSat.1 employees travel to international business regions in order to talk to representatives of large enterprises as well as researchers and academics. Previous Learning Expeditions have given rise to numerous innovative business ideas, such as the development of the internet platform MyVideo into an online entertainment platform. The ProSiebenSat.1 Group has carried out Learning Expeditions regularly since 2011, in which around 200 employees have participated so far. Since 2013, ProSiebenSat.1 has also organized Innovation Camps. Here, employees from different areas of the Group work together for seven days on business solutions to a problem set by management. The participants developed more than ten business concepts during the first two Innovation Camps. The ProSiebenSat.1 Group considers both its Learning Expeditions and Innovation Camps efficient tools for sustainably, strengthening the Group's power of innovation. Both initiatives are to continue in 2015.
Environmental Sustainability
The ProSiebenSat.1 Group's environmental commitment primarily relates to climate and environmental protection measures. ProSiebenSat.1 helps protect the environment by using resources sparingly and reducing CO2 emissions.
Climate and Environmental Protection
As a media company, ProSiebenSat.1 does not count among the traditional manufacturing industries with high consumption of fossil fuels, raw materials and complex international supply chains. Nevertheless, doing business on a sustainable basis is important for the future corporate success of ProSiebenSat.1.
At ProSiebenSat.1, the largest energy requirement results from the production of TV content and the distribution of the TV program. The Company therefore converted its power supply at the Unterföhring location to use renewable energy sources in 2012. Since then, the Group has borne additional costs of around EUR 40,000 per year for green energy. The TV Group has thus reduced its CO2 emissions considerably: Compared to the reference value from 2011, CO2 emissions were around 8,000 tons less in each year from 2012 to 2014. In these three years, radioactive waste fell by 11 kilograms compared to the reference value from 2011. ProSiebenSat.1 thus makes a valuable ecological contribution.
Social Sustainability
Firstly, the social component of the ProSiebenSat.1 sustainability concept covers the multifaceted social engagement of the Company and its employees. Secondly, the ProSiebenSat.1 Group also prioritizes a responsible HR strategy. Furthermore, the issues of "Independence and Transparency," "Data Protection" and "Youth Protection" also hold an important position.
Employees
Strategic Human Resources Work
The ProSiebenSat.1 Group is taking the opportunities presented by digitalization and developing from a traditional TV provider into a Broadcasting, Digital Entertainment and Commerce Powerhouse. The Group supports this process with numerous human resources measures that are derived from the strategy and that strengthen the Company's innovative power. As a media company, the ProSiebenSat.1 Group is a classic "people business": Every day, our employees help ensure that the Group remains one of Europe's largest media companies with their talent, creativity and dedication. In order to secure the future economic growth of the ProSiebenSat.1 Group, we pursue a sustainable and responsible human resources strategy. We invest in a targeted way in the development, education and training of our employees and offer them attractive career opportunities, performance-based remuneration models, family-friendly working conditions, a comprehensive work-life package and a wide range of social benefits.
Development of Employee Numbers
As of December 31, 2014, the Group had 4,210 employees (previous year: 3,590), calculated on the basis of full-time equivalents. The average number of full-time equivalents in the last year was 4,118 (previous year: 3,400). This increase of 718 average full-time equivalents or 21.1 % is primarily attributable to the expansion of the Digital & Adjacent segment as well as acquisitions in this field. In total, we created 351 full-time equivalent positions in the Digital & Adjacent segment in the past year. This is mainly due to the acquisitions of Aeria Games Europe GmbH, COMVEL GmbH and mydays Holding GmbH.

In 2014, ProSiebenSat.1 had an average of 3,440 employees in Germany, Austria, and Switzerland (previous year: 2,927 average full-time equivalents). This equates to growth of 17.5 % year-on-year and an 83.5 % share of the Group's total employees (previous year: 86.1 %). The regional distribution of employees in 2014 was as follows:

Diversity Management
We value the diversity that our employees bring to the company in terms of personal characteristics, talents and abilities. We are convinced that diverse teams are better able to solve complex tasks. We therefore see diversity as an important success factor for our company.
A crucial aspect is the proportion of men and women within the company and in management positions. There is already a very balanced ratio of men and women in the ProSiebenSat.1 Group: In 2014, 45.5 % of employees were female (previous year: 47.2 %) and 54.5 % were male (previous year: 52.8 %).

In the core market of Germany, the proportion of women was 44.8 % (previous year: 46.4 %) and thus on the level of the average proportion of women in German enterprises, which according to the Federal Office of Statistics was 46.2 % in 2014.

At management level, the proportion of women in the ProSiebenSat.1 Group was 29.9 % (previous year: 31.5 %). In the core market of Germany, 29.0 % of managers were female (previous year: 30.6 %). This put ProSiebenSat.1 slightly above the national average (Federal Office of Statistics 2012: 28.6 %).
For ProSiebenSat.1, diversity means that employees are hired purely on the basis of their skills. Factors such as gender, nationality, sexual orientation and age play no role. In 2014, ProSiebenSat.1 employed people from around 45 different nations in Germany. The average age of ProSiebenSat.1 employees in Germany fell to 37.2 (previous year: 38.2).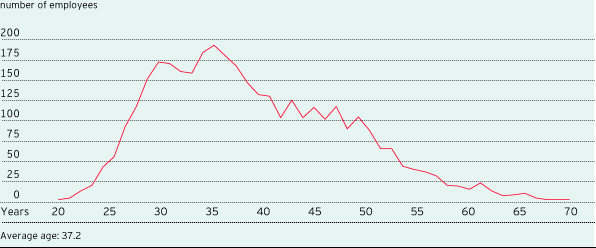 Our corporate culture is characterized by openness and respect. Therefore, the ProSiebenSat.1 Group signed the Diversity Charter in 2014. By joining this initiative, we underline our commitment to creating a working environment free of prejudice and exclusion that specifically promotes diversity among employees.
Recruiting, Education and Training
In order to succeed in a highly dynamic industry environment in the long term, it is particularly important to the ProSiebenSat.1 Group that its employees continue to develop and that the Group gains new, highly qualified talents as part of its growth strategy. In recruiting, the Group therefore takes various approaches: The digital recruiting methods include as central platform the own career portal, that was newly launched in 2014. Additionally, ProSiebenSat.1 uses different social media channels and operates an own talent community. In 2014, ProSiebenSat.1 also established a recruiting team that proactively approaches talents on the market and maintains an external network. By doing so, ProSiebenSat.1 secures itself access to candidates who have the necessary qualifications to shape the Group's transformation process successfully. Another important aspect is that the Company thus managed to already reduce the time to hire considerably.
At the same time, ProSiebenSat.1 continuously grooms qualified junior staff for the Group through various apprenticeships. In 2014, 185 apprentices worked in Germany at ProSiebenSat.1 (previous year: 175). This includes management trainees, trainees in TV, Online and PR, as well as apprentices in the following courses: audiovisual media, events, office management, video and sound media design, digital and print media design and IT system integration. The Group also offers dual study programs in media and communications business, as well as accounting and controlling. The ProSiebenSat.1 Group is taking a large part of its apprentices, management trainees and trainees into full employment as the following chart shows:

Furthermore, the training of employees is of great importance at ProSiebenSat.1. In 2014, the Company further increased its budget in this area: In the past year, the ProSiebenSat.1 Group's investments in education and training programs rose to EUR 3.0 million (previous year: EUR 2.3 million). The number of events of the ProSiebenSat.1 Academy in Germany, Austria and Switzerland increased to 561 (previous year: 469), the number of participants rose by 25.2 %. In total, 5,965 participants made use of training offers (previous year: 4,764).
To allow our employees to develop on a continuous basis, we have been offering them an extensive program at the ProSiebenSat.1 Academy since 2010. The various seminars on professional and personal development are derived from the corporate strategy and aligned to the qualification requirements of ProSiebenSat.1 employees. In 2014, internal training especially focused on digital issues: The Company conceived new trainings such as "Digital Economy", "Business Model Innovation" and "Lean Start-Up-Management". The objective is that employees understand digital megatrends and the latest technologies and that they estimate the importance for our industry, in order to develop new products and business models. Since 2014, many of the Academy's offers have also been available via live stream or video on demand, so that employees can make use of them any time, any place. In addition, the Group strengthens its employees' innovative power with various instruments such as Learning Expeditions and Innovation Camps.
Succession Planning and Executive Development
In addition to the continuous training and education of our employees, our success is also based on long-term succession planning. The ProSiebenSat.1 Group uses the "Organization & Talent Review" (OTR) to identify talented and high-potential employees in the Company and to support them with individual development plans. At the same time, ProSiebenSat.1 also uses the OTR to ensure long-term appointments to business-critical functions. The process was introduced in 2010. In 2014, 201 employees took part in the OTR (previous year: 193 participants).
All managers at ProSiebenSat.1 go through a development program with the modules "New Leader", "Performance", "Team", "Self-Management", and "Digital Leader". In 2014, ProSiebenSat.1 introduced "Digital Leader" as a new module to train management skills resulting from the digital transformation. Overall, 219 managers took part in the modules of the development program in 2014.
Performance-Based Compensation System
With performance-based compensation, ProSiebenSat.1 gives its employees an appropriate share in the Company's success, and thus sets monetary incentives. Our employees are therefore managed on the principle of "Management by Objectives", drawing on a system that puts higher-level corporate objectives into more specific terms for both staff and management by systematically breaking down targets into segment, departmental and individual goals. At annual assessment interviews, employees and their supervisors define personal targets for the financial year. These not only provide clear goals but also encourage motivation. The system of targets is tied to a bonus plan calculated on the basis of individual target attainment and the EBITDA generated by the Company. In ideal cases, an employee can achieve up to 200 % of the individual target bonus.
For managers, the Company introduced the "Performance Development" program in 2010. The objective is to assess functional performance, manager conduct and business activity. The program is linked to a bonus system, and in an ideal case also entitles managers to receive a one-time payment of up to 200 % of the individual target bonus. A further incentive system was initiated in 2012 — a share-based compensation plan (Group Share Plan) in which selected managers participate.
As ProSiebenSat.1 achieved its financial targets for 2015 already at the end of 2014, the Company decided to give employees and middle managers a special bonus as a token of appreciation. The bonus is between EUR 500 and EUR 3,500, depending on the employee's individual contribution to target attainment since 2010. The special payment was made in January 2015.
Social Responsibility
We want to offer an environment where our employees can best unify their private and professional lives. Therefore, employees of the ProSiebenSat.1 Group are provided with an extensive work-life package, which supports them in particular in the areas of family, sport and health.
For over ten years, we have offered our employees an in-house day-care center that currently has 74 places. In 2014, the Group's investments in childcare rose to EUR 994,000 (previous year: EUR 890,200). EUR 222,500 went to the company day-care center, EUR 771,500 to care subsidies, which are paid to all employees whose pre-school age children receive care outside the home.
In addition, we make it easier to unify the professional and private lives and make a work-life balance possible with flexitime models, teleworking jobs and part-time work. In 2014, 16.1 % of ProSiebenSat.1 employees in Germany worked part time (previous year: 19.6 %). According to the Federal Office of Statistics, the proportion of part-time workers averaged 25.6 % in German companies. ProSiebenSat.1 employees can also make use of various short-term and long-term sabbaticals in order to integrate their career and personal life plans more individually. Moreover, the Group cooperates with an external service provider that facilitates childcare, concierge services, coaching in difficult life circumstances and support in caring for family members.
In the past year, we enhanced the flexible working hours policy for our employees. The new working hours model offers employees a generous flexitime arrangement as well as various opportunities for compensatory time off. In addition, the model governs mobile work at home and while traveling.

The ProSiebenSat.1 human resources work also focuses on health and sport. The Group offers its employees the opportunity to integrate sport and movement into everyday working life. They can for example make use of an own sports room and an extensive course program on the Company campus. The health program is rounded off by masseurs who are present several days a week and the opportunity of a healthy and balanced diet in the canteen.
ProSiebenSat.1 as an Attractive Employer
An important factor of a successful HR work is for us the satisfaction of the employees. The ProSiebenSat.1 Group therefore surveys its employees every two years in order to obtain a detailed assessment of the atmosphere and to identify potential areas of improvement. In July 2014, the Company carried out an employee survey in Germany, Austria and Switzerland. With a share of 70 %, the participation rate was again very high (2012: 70 %). The results show that there is a high level of satisfaction among ProSiebenSat.1 employees. Close to 60 % are proud to be working at ProSiebenSat.1. The Company again achieved very good results in the categories "personal satisfaction at work" and "appeal of the work task." The employees also rated the corporate culture very positively. These high satisfaction values are also reflected in figures such as the staff turnover rate and duration of employment. In 2014, the turnover rate remained stable with 10.9 % (previous year: 10.6 %), also the duration of employment was at last year's level with an average of 7.5 years (previous year: 7.3 years).
Moreover, external evaluations also emphasize the appeal of our Group as an employer. As in previous years, ProSiebenSat.1 was among the top ten most popular employers in the "trendence Schülerbarometer 2014." Humanities students who took part in the "Universum Student Survey 2014" voted the Company into second place, and ProSiebenSat.1 is also one of the top employers (15th place) for young economists according to a Universum survey. Another important indicator of the Company's popularity as employer is the number of applications received. This rose again in 2014: In the past year, the ProSiebenSat.1 Group received 34,200 applications in Germany, around 20.8 % more than in the previous year (28,314).
Social Engagement
The ProSiebenSat.1 Group reaches around 42 million households every day with its TV stations. The distributed content helps to shape the opinions of viewers and users. We are conscious of this responsibility and use the high reach of our media to draw attention to important ecological, social and political issues and to impart values.
In the last years, ProSiebenSat.1 launched numerous initiatives: For example, we founded the initiative "startsocial — Hilfe für Helfer" together with other companies in 2001; the fund-raising campaign "RED NOSE DAY" followed in 2003. Our goal is to offer opportunities, promote culture, communicate values and build knowledge. We report on our social engagement in our public value report once a year.
In 2011, the Group placed its corporate responsibility activities in a larger social context and established an Advisory Board. The interdisciplinary body chaired by Bavaria's former Minister-President Dr. Edmund Stoiber advises the media group on relevant socio- and mediapolitical as well as ethical issues and gives suggestions regarding the Group's media offerings. In the 2014 financial year, the Advisory Board met three times. Members of the Executive Board and other decision-makers in the ProSiebenSat.1 Group participated in these events.
In 2014, the Advisory Board's activities included initiating a partnership between ProSiebenSat.1 Media AG and Technische Universität München. The objective of the collaboration is to grant access to university research topics to a wider public. The issue of research is intended to capture the imagination of young people in particular. ProSiebenSat.1 has a key role to play: Private stations like SAT.1 and ProSieben have been reaching considerably more young viewers than the public stations for many years. In addition, the Group is familiar with young people's lives and speaks their language. This factor is also a crucial advantage for the station group when communicating ecological, social and political issues: ProSiebenSat.1 can use its good access to young people to raise the next generation's awareness of important issues, making a positive contribution to the development of society in the long term.

Independence and Transparency
For ProSiebenSat.1 as a publishing company, independent opinion forming and transparent communication are very important. For this reason, ProSiebenSat.1 works for a trusting relationship with journalists and financial analysts and follows internal guidelines for preserving journalistic independence.
Transparency
Our public relations and investor relations work is guided by the transparency guidelines of the German Corporate Governance Code. Accordingly, we communicate fully, promptly and frankly with journalists, investors and analysts, whereby the equal treatment of all market participants is self-evident to us. We therefore provide detailed information in German and English about all aspects of our business activities, the ProSiebenSat.1 stock, and our financial results on the Company website www.prosiebensat1.com.
Journalistic Independence
To protect journalistic independence and fundamental journalistic conditions, the ProSiebenSat.1 Group formulated guidelines back in 2005 that all program creators in Germany are obliged to uphold. The "Guidelines for Ensuring Journalistic Independence" can be viewed on the corporate website. The media group's journalists are however free to shape their contributions and report independently of social, economic or political interest groups.
Data Protection
For a media company like ProSiebenSat.1, data protection is of particularly high importance. We have great respect for the privacy of all individuals whose data is used. For this reason, no personal information is processed — i.e. gathered, stored, changed, transferred, etc. — or used at ProSiebenSat.1 without full compliance with applicable laws being ensured in advance. ProSiebenSat.1 fully guarantees the right to be informed about the use of personal data and to request a necessary correction of this data. The same applies to the individual's right to disallow the use of their personal information or to demand the deletion or blocking of this data. ProSiebenSat.1 has set down the data protection principles in its data protection policy, the Code of Compliance and in further guidelines on data protection and data security.
Youth Protection
Protecting young people is also something that the Company is particularly responsible for. Professionally independent youth protection officers make sure that the ProSiebenSat.1 Group offers age-appropriate programming on TV and online. They ensure that content which is inappropriate for children is broadcast only at the legally prescribed broadcasting times and guarantee technical methods of protection for the distribution of unsuitable content on the internet. Youth protection workers are involved early on in the production and purchase of programs at ProSiebenSat.1. At an early stage, they assess screenplays, accompany productions and formats and compile reports. Independently, the ProSiebenSat.1 Group's TV and online editors receive regular training on youth protection requirements. The Company is also represented on the Board of the Voluntary Self-Regulation of Television Association (Freiwillige Selbstkontrolle Fernsehen e. V., FSF) and the Board of the Voluntary Self-Monitoring of Multimedia Service Providers Association (Freiwillige Selbstkontrolle Multimedia-Diensteanbieter e. V., FSM). The FSF and FSM are organizations for the voluntary self-regulation of private television broadcasters and multimedia service providers and are recognized as independent supervisory bodies for television and the internet by the Commission for the Protection of Minors in the Media (Kommission für Jugendmedienschutz, KJM). In addition, in early 2013, the Group was one of the first major providers of online games in Europe to join the German Entertainment Software Self-Regulation Body (Vereinigung Unterhaltungssoftware Selbstkontrolle, USK).