Handover following a successful turnaround: On April 1, 2015, Gunnar Wiedenfels will become the new Chief Financial Officer (CFO) of ProSiebenSat.1 Media AG. His predecessor, Axel Salzmann, worked for the Group for seven years and knows his successor very well, as he recruited him for the Company himself in 2009. A discussion about costs, cash and the capital market.
Interview with Axel Salzmann and Dr. Gunnar Wiedenfels
Mr. Salzmann, you joined ProSiebenSat.1 in spring 2008. Do you still remember your first day?
Axel Salzmann: Oh yes, it was May 1, 2008. But because I could hardly wait to start, I was already here on April 30. Some days before, the Group had to issue a profit warning. It wasn't an easy start.
The Company was in a difficult situation back then …
Axel Salzmann: It was a very unusual situation. First of all, ProSiebenSat.1 had acquired the international TV group SBS in 2007, and secondly it had come up with a sales concept that didn't quite match the needs of the market. This led to a significant decline in revenues, and, as obvious as it might sound, if revenues aren't right, you can't achieve a good profit. However in 2009, we then managed to reduce our costs by around EUR 220 million within just 12 months – in retrospect, this was an extraordinary achievement, towards which everyone contributed.
How did the Company develop after that? Can you outline two or three highlights of your time as CFO?
Axel Salzmann: From then on, ProSiebenSat.1 grew in a very dynamic way. Firstly, we reduced our net financial debt by EUR 1.2 billion in 2011 by selling our business in Belgium and the Netherlands. On this basis, we set our current net financial debt target, which is 1.5 to 2.5 times of the recurring EBITDA for the last 12 months. In 2012 and 2013, we decided to concentrate on our German-speaking TV business and therefore sold our Northern European portfolio, too. Since then, we have invested consistently in promising digital activities and have promised the capital market to generate an additional 800 million in revenues by 2015 compared to 2010. We've now achieved this a year earlier than announced.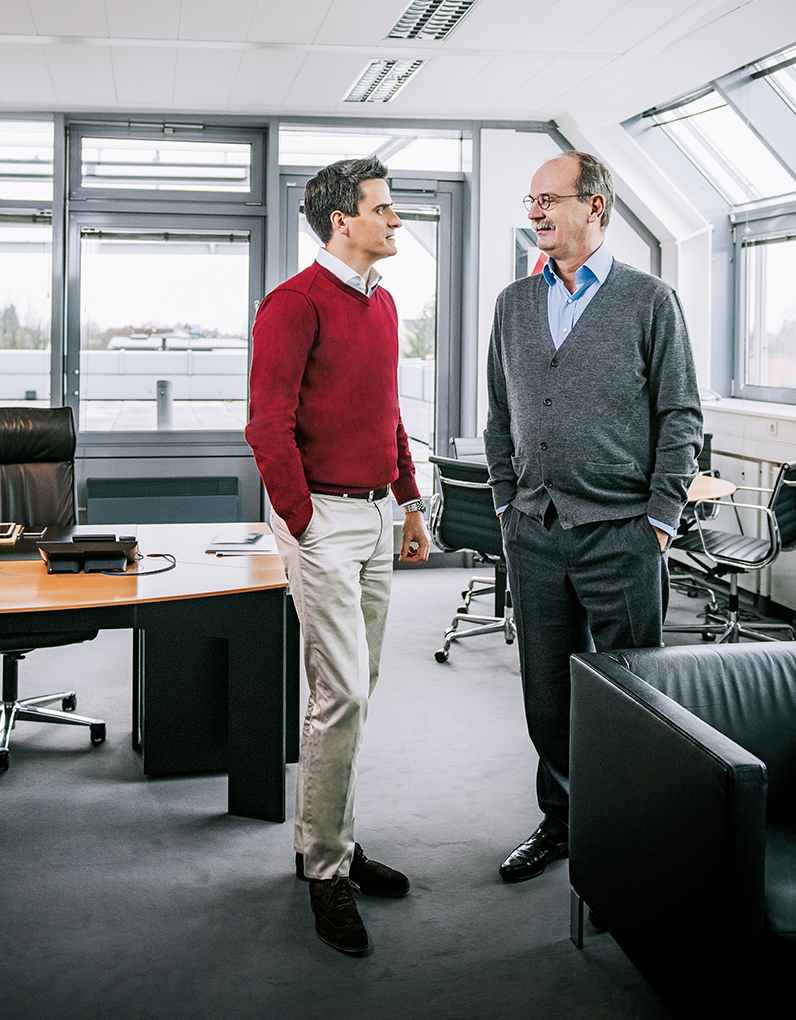 You issued notes in the amount of EUR 600 million last year, thereby partially repaying an existing loan. What was the strategic aim behind this transaction?
Axel Salzmann: ProSiebenSat.1 is striving to fund some of its financial requirements via the capital market in the long term. We are also making efforts to stagger the maturities of our financing agreements in a way that will give us the broadest possible repayment profile. The placement of the notes was an important step. The Company will definitely take further steps in this direction in the future and will take advantage of market opportunities whenever they arise. The notes were 3.5 times oversubscribed and have a coupon of 2.625 % with a seven-year term – I call that highly successful.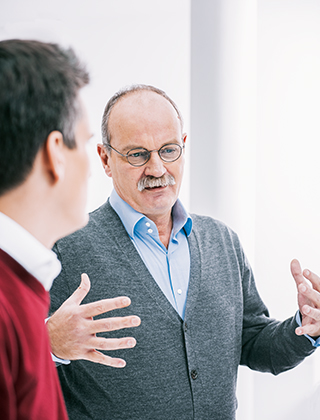 Mr. Wiedenfels, Axel Salzmann recruited you during the restructuring phase of the Company. Now you're about to become CFO at a highly profitable group with a share price that has increased considerably. Which areas are you going to focus on?
Gunnar Wiedenfels: The key question for me is what part we can play as the management in ensuring that this Company makes the right investment decisions during growth phases and reacts with resolve at an early stage in times of crisis. I'm convinced that we have a very good team with which I will enjoy tackling the next challenges. At ProSiebenSat.1, we have always been very willing to change and develop.
You were most recently responsible for Controlling at the Group. How do you see your role as the future CFO?
Gunnar Wiedenfels: I'd like to shape things in an entrepreneurial way. In my opinion, my main role as CFO will be to ensure that entrepreneurial decisions are made rationally. In order to do this, it is important to analyze controlling data and to participate in taking decisions on this basis.
Mr. Salzmann, throughout almost your entire time in office two financial investors, Permira and KKR, were the co-owners that had a determining influence on the Group. Both have now sold their shares. Will the new ownership structure change the work of the CFO?
Axel Salzmann: I have always known Permira and KKR to be investors that work in an enterprising and focused way. They have been very supportive of the Company's development from a strategic point of view. Now, we're dealing with different professional, institutional investors, although they're asking for similar things: Strong growth prospects and a good dividend yield.
»My main task will be to ensure rationality.«
DR. GUNNAR WIEDENFELS
The future growth targets are based on synergies between traditional TV business and the digital portfolio, among other factors. What does this mean?
Gunnar Wiedenfels: Of course, we want to continue growing in our traditional television business in the next years. At the same time, we set up new services in the Digital & Adjacent segment, which will also expand and strengthen our TV brands. We are already the leader in the paid video-on-demand market in Germany with maxdome. We also have online video services that are financed through advertising such as MyVideo, our TV websites, the 7TV app and a rapidly growing multi-channel network. Furthermore, we have an expanding portfolio of investments in the area of digital commerce. We're pursuing a vertical strategy here, whereby companies complement each other and generate synergies, for example by passing on web traffic. The larger the verticals and their companies become, the stronger this effect will be.
Is the ProSiebenSat.1 Group actually a blue chip or a growth stock on the stock exchange?
Gunnar Wiedenfels: Both. On one hand, we're regarded as a company with a strong growth impetus, which we've proven in the past. At the same time, however, we have announced to the capital market that we will pay 80 % to 90 % of our underlying net income as a dividend. We can do this because we have two investment currencies: We're a company with a very strong cash flow. Furthermore, we also have advertising time for investments. This allows us to invest in promising start-ups with media as well as pushing our own products.
It sounds like you've already settled in to your role as CFO. Mr. Salzmann, do you still have any advice for your successor?
Axel Salzmann: Gunnar has been my deputy for a year now and has known our business for over six years. He has had the best possible preparation for his new role.<