We reach several millions of people every day with our TV stations and digital platforms. This is a big opportunity — and responsibility. We use our involvement to pursue four goals: We want to offer opportunities, promote culture, communicate values and build knowledge.
Public Value 2014
RED NOSE DAY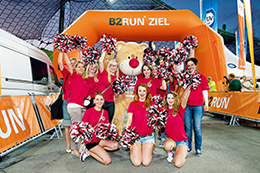 In December 2014, the twelfth "RED NOSE DAY" took place on ProSieben. It is the most well-known charity brand in Germany — and also one of the most successful. In reports and shows, familiar TV faces asked viewers to donate for children in need. The Company has already raised nearly EUR 12 million in donations since the campaign began in 2003. And ProSiebenSat.1 employees also got involved in their own charity initiatives for good causes: In 2014, for example, nearly 250 employees took part in the annual company run. The Group honored every kilometer run and particularly good run times with a cash donation. This year, the employees raised EUR 36,400 in donations.
SOCIAL DAY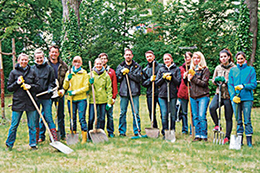 Supporting others and sharing responsibility: That is the goal of ProSiebenSat.1 Media AG's "Social Day". In 2014, the Company again offered two volunteer days, on which employees can get involved in social Munich institutions during their working hours. For example, these include the kids and youth club "Tasso" in Milbertshofen, the foundation for blind women in Nymphenburg-Neuhausen, and the children's and youth charity "Die Arche" in Moosach. The first "Social Day" at ProSiebenSat.1 was held in June 2013. Since then, 200 employees have taken part.
TOLERANCE DAY
April 19, 2014, was a day of tolerance for ProSieben. The station group used the fourth "Tolerance Day" to campaign for openness, understanding and freedom from prejudice against other cultures and lifestyles. TV magazines like "taff" and "Galileo" showed topical reports for "Tolerance Day" that conveyed why tolerance is fundamental to our society and that diversity is fun: For example, they reported about two sisters working in Syrian refugee camps and a boy with Down syndrome who attends a mainstream school. "Galileo" also accompanied a Turkish couple preparing for their wedding in Germany.

DIE ARCHE e.V.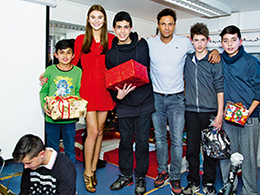 "Die Arche e.V." was founded in Berlin in 1995. The Christian children's and youth charity is now active at 19 locations in Germany, reaching over 4,000 children and young people. "Die Arche" (The Ark) supports children and young people, fosters their social skills and offers education and sport, healthy eating and individual counseling. "RED NOSE DAY" supported the project again in 2014 and provided funds for a Christmas present for all "Die Arche" children throughout Germany.
GREEN SEVEN
During the annual "Green Seven Week", the ProSiebenSat.1 Group uses its large reach to familiarize especially young viewers with a sustainable and environmentally friendly lifestyle. In the week from May 19 to 25, 2014, ProSieben used TV programs for the sixth time to shed light on how every individual can do their bit to protect the environment. From exciting slow-motion footage from the animal kingdom to eco-trends to the question "Could we go without crude oil?", the station's TV formats showed numerous reports related to nature and environment. Even outside "Green Seven Week," the ProSiebenSat.1 Group regularly provides space to environmental issues in its programs.
STARTSOCIAL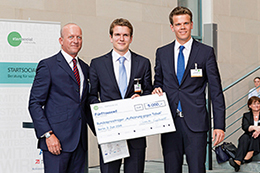 Many dedicated founders have great ideas for social projects, but often come up against practical problems when trying to implement them. This is where the nationwide "startsocial" competition with the motto "help for helpers" comes in: For three months, experts from industry, the public sector and social initiatives lend their support and specialist knowledge to founders of selected social projects, whereby the one-time financial support of individual projects is explicitly not the focus. After these three months, an expert jury chooses the 25 best initiatives, which are awarded the Federal Prize by Chancellor Angela Merkel as patron. For 13 years, ProSiebenSat.1 has supported the competition as a co-founder of "startsocial."
FIRST STEPS AWARDS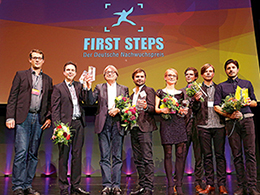 It is often hard for students and graduates of film schools to make the leap into practice. For this reason, the ProSiebenSat.1 Group is championing the next generation of filmmakers with numerous projects and initiatives. In addition to partnerships including with the Bayerische Akademie für Fernsehen (Bavarian Academy for Television) and the Hamburg Media School, the station group is a co-founder of the "FIRST STEPS Awards" that the German Film Academy awards every year to the best films produced by students graduating from German-language film schools. The award for young talents includes prize money of EUR 92,000 and is the most prestigious of its kind in Germany. In September 2014, the "FIRST STEPS Award" was awarded for the 15th time at a big event in Berlin.