New show highlights, the best series and celebs under observation — the ProSiebenSat.1 stations once again offered an exciting lineup in 2014.
TV Highlights 2014
ARCH RIVALS
Mad, madder, it's Joko vs. Klaas! In their show "Duell um die Welt," the two adversaries took on more daring challenges all around the world in 2014. Up to 19.0 % of viewers aged 14 to 49 shared their thrills. "CIRCUS HALLIGALLI" also continued to pull in the ratings for ProSieben, securing above-average market shares of up to 14.1 % among 14 to 49 year olds. The average audience share was 11.1 %. The duo that present "CIRCUS HALLIGALLI," Joko Winterscheidt and Klaas Heufer-Umlauf, won the "Grimme" prize and the "Rose d'Or" international television award in 2014.
GOAL!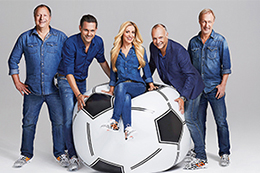 Soccer fever broke out on kabel eins in 2014: The UEFA Europe League once again secured top ratings for the station. Matches in which German teams played were particularly popular: The Villarreal CF vs. Borussia Mönchengladbach match achieved a market share of 7.6 % among 14 to 49 year olds, setting a new seasonal record. "Mein Lokal, Dein Lokal," a format produced in-house, was a culinary hit in 2014, with a market share of up to 9.6 % (14 to 49 year olds).
WHAT A MONSTER
Inner values were what mattered on sixx in 2014 — candidates of the new dating show "Sexy Beasts" certainly couldn't rely on their appearance, as makeup artists transformed the singles into scary characters before they met for the first time. The show, which was produced in-house, attained a market share of up to 1.9 % in its target group of viewers aged 14 to 49. In the relevant target group for sixx (women aged 14 to 39), up to 3.6 % of viewers tuned in.
CELEBRITY SPECTACLE
15 days, 12 celebs, one villa: "Promi Big Brother — Das Experiment" was the show highlight of the year on SAT.1. The daily live shows brought the station an outstanding series average of 19.2 % (14 to 49 year olds). After midnight, the program went into extra time on sixx: The first live show on sixx, "Promi Big Brother late night LIVE," drew in up to 10.0 % of 14 to 49 year olds.
SETTING THE TONE
"The Voice of Germany" offers a platform to magnificent voices. This concept continued to excite viewers in its fourth season on SAT.1 and ProSieben: The music show achieved outstanding market shares of up to 25.8 % among 14 to 49 year olds. On average, 20.4 % of viewers watched Germany's best singing talent competition.
PROVEN HITS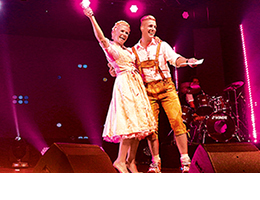 The Western world of the Cartwrights continues to delight viewers after over 50 years: "Bonanza" regularly ensured high market shares of up to 5.0 % for SAT.1 Gold in 2014. The successful music series "Goldschlager" and "Fetenhits" also brought in high ratings for the broadcaster, with market shares of up to 0.8 and 1.1 % (14 to 49 year olds).
OUT OF THIS WORLD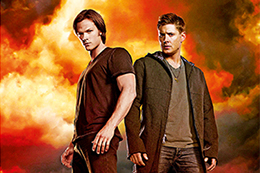 Demons and zombies take over ProSieben MAXX on Mystery Monday. Luckily there are professional monster hunters, like Dean und Sam Winchester in "Supernatural." Up to 2.0 % of viewers aged 14 to 49 took part in the battle against evil in 2014. Bleak visions of the future also cast a spell on viewers, with the science fiction series "Falling Skies" luring up to 2.5 % of 14 to 49 year olds to their televisions.
DRESSED UP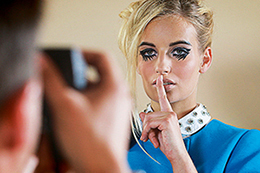 Out of your jogging pants and into an evening dress: In the styling show "FACES Studio," candidates were selected in a street casting and styled for a professional photo shoot. The third season of FACES Studio, its most successful to date, gave ProSieben Schweiz market shares of up to 14.4 % among viewers aged between 15 and 49 years.
IT'S A BOY
The sixth season of "Austria's next Topmodel — Boys & Girls" provided a breath of fresh air on PULS 4: For the first time in Europe, men were also allowed to take part in "the most beautiful battle of the sexes" — and the competition was actually won by up-and-coming model Oliver, who beat 17 male and female competitors in the big live finale. 11.9 % of 12 to 49 year olds didn't want to miss it. The whole season achieved an average market share of 10.1 %, surpassing the station's average by around 150 %.